It just wouldn't be OU enrolment if it went smoothly, would it?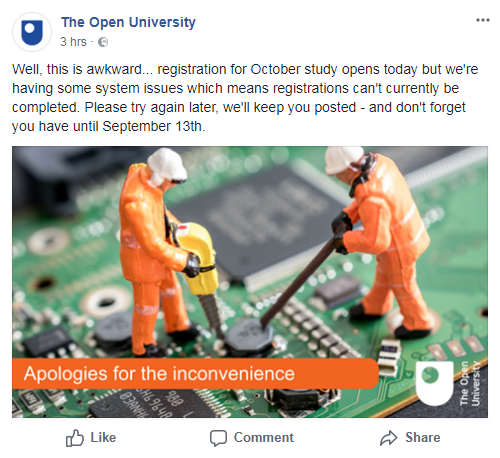 I went through enrolment last night.  Not because I stayed up to enrol.  Of course not.  Who would even do that?  I just happened to be awake because … Imma go with working on a TMA or something.
Anyway, I didn't get any kind of confirmation last night.  Considering how "well" things went for me last year, I decided to ignore it and get some sleep.  Sure enough, I found the above post from the OU's Facebook account in the morning.
After going through enrolment a second time, I got all the proper confirmations, and all my OU tools (the StudentHome page, my study record, my student loan page …) properly showed my new modules.
So, what am I taking?
The new Q62 Computing & IT structure changes the various former paths to the following four routes:
Broad route
Communications and networking route (and here I thought networking was communications)
Communications and software route
Software route
The Broad route further breaks down into the following focuses:
Communications and networking focus (here we go again …)
Computer science focus
Software development focus
Web development focus
You have to choose a route (and potentially a focus) for selecting modules at Stage 2 and above.  Since I'm starting my Stage 2 study in October, I have to choose.
My first requirement in choosing second stage modules is that I want to study M269, which is called "Algorithms, data structures and computability", but is pretty much just the computer science module.  M269 has M250 (Object-oriented Java programming) as a prerequisite, so that's two modules selected.  I don't particularly want to do two programming-heavy modules at the same time, so I'll split up M250 this year and M269 next.  (This is the OU preference anyway, though I'm relatively confident of my ability to convince them to allow simultaneous study if I needed to.)
My other requirement is not taking TM255.  It looks like TU100 part 2.  Any actual "communications" study will take place in the networking module TM257.  The description of TM255 makes it pretty clear that what you'll really be studying is how to do office work.  (Also, I'm not that keen on TT284 (Web technologies) as the student reviews paint it as a shallow tour of technologies I already have a decent familiarity with anyway (PHP, HTML, JavaScript, MySQL, and SubVersion), and the satisfaction survey makes it look as satisfying as the springtime snow we're currently getting.)
So what about my other two modules?  Well, the choices are:
T227 (Change, strategy and projects at work – looks harmless enough, but it's really intended to be taken by students of x15, the Computing & IT Practice foundation degree),
TM257 (Cisco networking CCNA part 1 – ideally I'd like to get my CCNA in my spare time and avoid spending a module studying it),
TM254 (Managing IT: the why, the what and the how – basically project management including software project management),
and the two above, TM255 and TT284.
The best of these is TM254.  Project management is a skill set used constantly in IT, and most other office roles.
So that's what I'll be doing this year, M250 and TM254, on the Broad route with a computer science focus.  Next year I'll be doing M269 and … Something else.  I don't really know yet, but I'm hoping my enthusiasm grows over the next year.
---
Quick note on my current modules: I'm completely, totally, and in all other ways done with TM129.  (EMA submissions went live today.)  The questions on the EMA were more vague than I could hope, so I don't really know if I'll do as well as I did on TU100 last year, but I'm fairly confident of a distinction.
I'm only studying MST124 now, and I've only got two units left: Taylor polynomials (which isn't written very well, so I'm looking for external resources again) and complex numbers.  I'm hoping to be done with both by the end of the Easter break, and I'll have most of April and all of May for just revision for the exam.  I don't think I have much of a shot at a distinction there, but halfway through the module, I found that I really wanted to try for one.  So we'll see how revision goes.